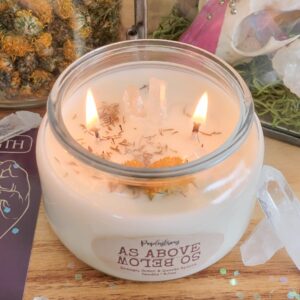 $

20.99
PopLustrous Intention Candles are hand crafted in house using 100% natural soy wax, real gemstones & crystals, herbs, plants, flowers, premium fragrances and colors.
Our AS ABOVE SO BELOW: Spirit Invoking Candle is specially crafted with great care and respect to ensure the best intention possible, scented with Cedar & Orange oil and topped with Dandelion, Thyme & a real Quartz crystal(s). (depending on the sizes of quarts available there may be one or more pieces)
Our line of Intention Candles are double wicked and are poured into a glass container made specifically for candles using approximately 8.5 oz of wax per candle.
Perfect witchy vibes! Makes a great gift for the witch in your life! Made In USA!
Due to the hand crafted nature of our product, appearance, color, stone size, texture and overall appearance will all vary.
Size- Approximately 8.5 ounces
Etsy Disclosure: While some may believe in the purpose of this item, it is being sold as a novelty item for entertainment purposes and we make no guarantee or claim that this item will invoke or conjure any spirits.